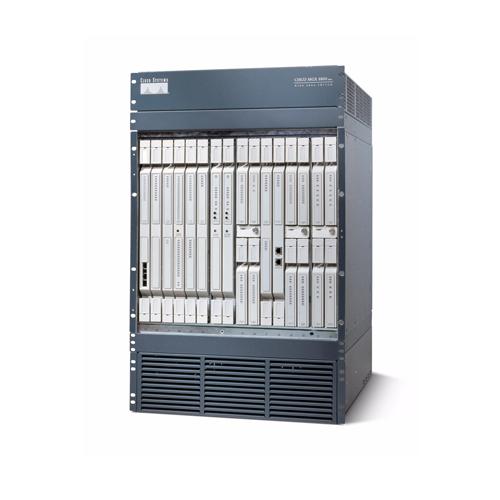 Cisco MGX 8850 AXSM Broadband ATM Switching Module
AXSM can be used in the MGX 8850 to provide ATM capability up to OC-48c/STM-16.
High scalability in interface speeds with T3/E3 ports, OC-3c/STM-1, OC-12c/STM-4, and OC-48c/ STM-16 AXSM modules. Each port on the AXSM can be configured for either trunk or access applications.
Industry leading module port densities of 16 T3/E3 ports, 16 OC-3c/STM-1 ports, 4 OC-12c/STM-4 ports, and 1 OC-48c/ STM-16 port that can scale up to 12 OC-48c/STM-16 modules in each MGX 8850 Multiservice Switch. Each OC-48c/STM-16 delivers fully nonblocking, full duplex throughput, in which a connection can occupy the entire line rate.
Support for all ATM service classes, with up to 16 classes of service (CoS). Supports carrier-class implementation of standards-based PNNI, SVC/SVP, SPVC/SPVP, and MPLS services. Large cell buffers (one million cells), which help to maximize "goodput" performance during congestion, reducing the number of retransmits; the buffers are allocated dynamically, depending on connection resource needs, thereby optimizing use of system resources.
High reliability with hot-standby 1:1 AXSM card redundancy, 1:1 and 1+1 line redundancy using APS.
Ports and trunks supported on same AXSM module
User-Network Interface (UNI) Specifications 3.0, 3.1, 4.0
Network Management
Management using Cisco WAN Manager software suite

Based on Simple Network Management Protocol (SNMP)
Physical Specifications
Dimensions: (H x D) 15.83 x 15.65 in.
Electrical Specifications
Input power required: -48 VDC

Power consumption: 95W