Lenovo Servers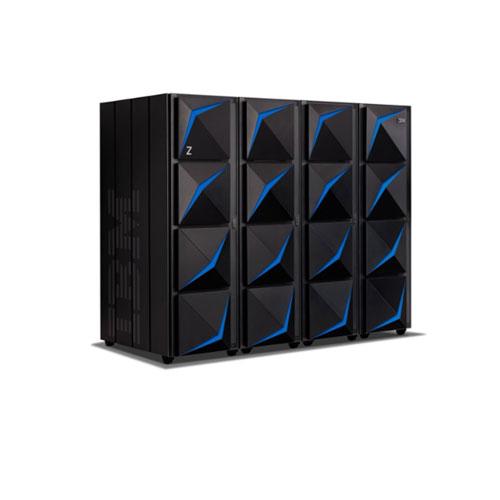 IBM Z15 Mainframe server
Simplified life for developers with a cloud native experience

Greater performance and scalability for mission-critical data encryption

Enhanced instant recovery delivers ultimate uptime for high availability

Flexible compute for any business, any cloud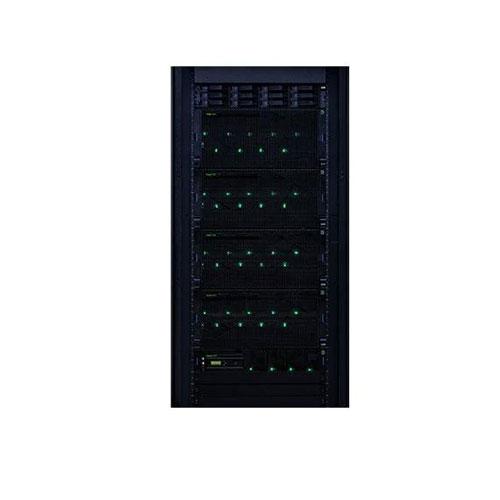 IBM Power System E980 Server
Microprocessors: 4 x POWER9 processors – 8,10,11 or 12 cores each

Memory: 32 DIMM slots Up to 16 TB buffered DDR4 CDIMMs per node

Internal storage: 4 slots for non-volatile memory express(NVMe U.2)

Integrated PCIe adapter slots: 8 PCIe x16 Gen4

PCIe I/O Expansion Drawers: Up to 4 (12 PCIe adapter slots each)

POWER Hypervisor: PowerVM Enterprise integrated

Operating systems: AIX, IBM i and Linux for Power

Power requirements: Operating voltage: 200 to 240V AC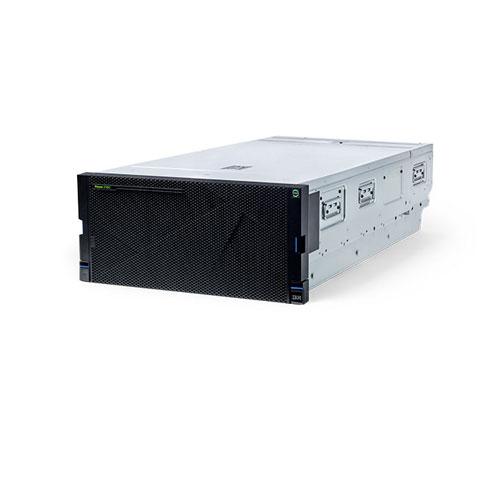 IBM Power System E950 Server
Microprocessors: Up to 48 cores 12 core processor sockets at 3.15 to 3.80 GHz (max)

Memory: Up to 128 DDR4 Industry Standard DIMMs128GB to 16TB (max)

Storage Backplane Options: Base Storage Backplane 8 SFF-3 Bays

Internal Storage bays: for SAS solid-state drives (SSD) or hard-disk drives, and NVMeU.2 drives 8 hot-swap SFF SAS bays + 4 NVMe bays

RAS features: First Failure Data Capture

Cloud Management and Deployment features: IBM Cloud Power VC Manager

Operating systems: AIX and Linux

Power Requirements Operating voltage: 200 to 240V AC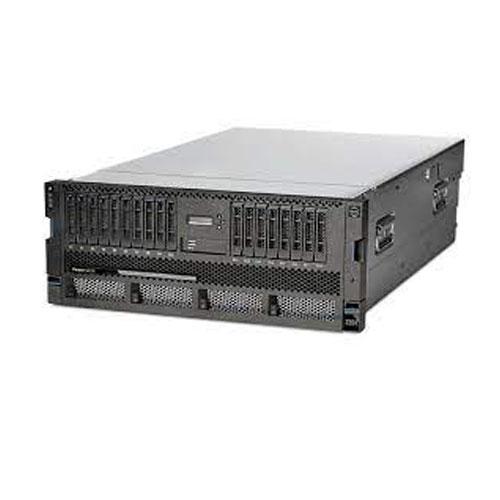 IBM Power System S922 server
Microprocessors: 4-core Typical 2.8 to 3.8 GHz (max) POWER9 Processor

Memory: Up to 4096 GB of DDR4 memory

Storage Backplane Options: Base Storage Backplane 8 SFF-3 Bays

Internal Disk Storage: SFF bays, one integrated SAS controller without cache, and JBOD RAID 0, 5, 6, or 10

Adapter slots: One x16 Gen4 low-profile, half-length slot (CAPI)

RAS features: Processor instruction retry

Operating systems: AIX 7.2 TL0, TL1 (P8 Compatibility Mode)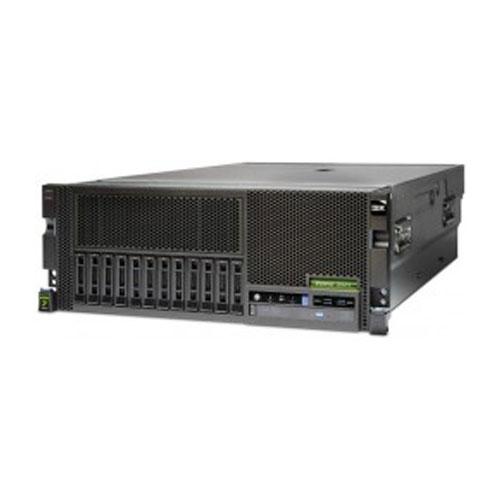 IBM Power System S924 server
Microprocessors: 8 core Typical 3.8 to 4.0 GHz (max) POWER9 Processor

Memory: Up to 4096 GB of DDR4 memory running at speeds of 2133, 2400, and 2666 Mbps

Storage Backplane Options: Base 12 SFF-3 Bays/RDX Bay

Internal Disk Storage: 12 or 18 SFF SAS Bay options (HDD or SDD), 2 internal PCIe G3 Slots for Storage Controller or NVMe

Adapter slots: 3 x16 Gen4 full-height, half-length (CAPI)

Connectivity support (optional): I/O ports Standard features One front USB 3.0 ports

RAS features: Processor instruction retry

Operating systems: AIX 7.2 TL0, TL1 (P8 Compatibility Mode)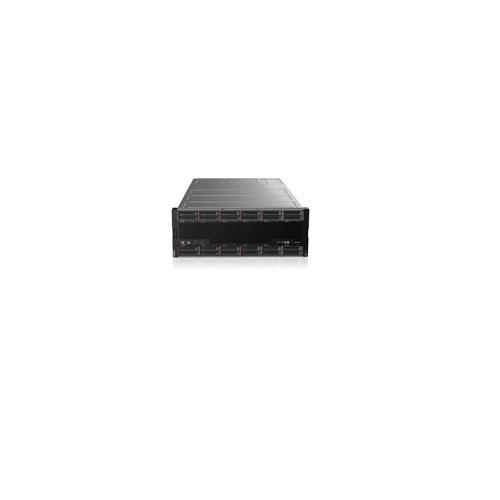 Lenovo ThinkSystem SR950 Mission Critical Servers
Form Factor/Height: Rack/4U
Processor (max): Up to 8 second-generation Intel® Xeon® Platinum processors, up to 28x cores per processor, up to 205W
Memory (max): Up to 24TB in 96 slots, using 256GB DIMMs; 2666MHz / 2933MHz TruDDR4, supports Intel® Optane™ DC
Expansion Slots: Up to 14x rear PCIe, (11x x16 +, 3x x8), 2x shared ML2 and PCIe x16) and 1x LOM; plus 2x front
Internal Storage (Total/Hot-swap) Up to 24x 2.5" bays supporting SAS/SATA HDDs/SSDs, including 12x 2.5" NVMe SSDs
Network Interface : Up to 2x (1/2/4-port) 1GbE, 10GbE, 25GbE, or InfiniBand ML2 adapters; plus 1x (2/4-port) 1GbE or 10GbE LOM card
Power (std/max): Up to 4x shared 1100W, 1600W or 2000W AC 80 PLUS Platinum
Security and Availability Features Lenovo ThinkShield, TPM 1.2/2.0; PFA; Hot-swap/redundant drives, fans, and PSUs; internal light path diagnostic LEDs; front-access diagnostics via dedicated USB port
Hot-Swap/Redundant Components Power supplies, fans, SAS/SATA/NVMe storage
RAID Support: Optional HW RAID; M.2 boot support with optional RAID
Systems Management XClarity Controller embedded management, XClarity Administrator centralized infrastructure delivery, XClarity Integrator plugins, and XClarity Energy Manager centralized server power management
OSes Supported
Limited Warranty: 1- and 3-year customer replaceable unit and onsite service, next business day 9x5; optional service upgrades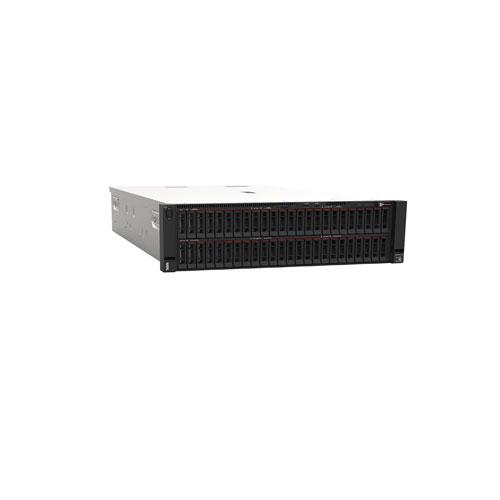 Lenovo ThinkSystem SR860 V2 Mission Critical Servers
Form Factor: 4U
Processors: Two or four 3rd-generation Intel® Xeon® Processor Scalable family CPUs, up to 250W; Mesh topology with 6x UPI links
Memory: Up to 12TB of TruDDR4 memory in 48x slots; Memory speeds up to 3200MHz at 2 DIMMs per channel; Supports Intel Optane Persistent Memory 200 Series
enternal Storage: Up to 48x 2.5-inch drives; Supports up to 24x NVMe drives (16x with 1:1 connection); 2x 7mm or 2x
GPU Support Up to 4x double-wide 300W GPUs (NVIDIA V100S) or 8x single-wide 70W GPUs (NVIDIA T4)
Network Interface: Dedicated OCP 3.0 slot supporting 1GbE, 10GbE or 25GbE
Power Up to 4x Platinum or Titanium hot-swap power supplies; N+N and N+1 redundancy supported
High Availability: TPM 2.0; PFA; hot-swap/redundant drives and power supplies; redundant fans; internal light path diagnostic LEDs; front-access diagnostics via dedicated USB port; optional integrated diagnostic LCD panel
RAID Support: Onboard SATA with SW RAID, Support for ThinkSystem PCIe RAID/HBA cards
Management: Lenovo XClarity Controller; Redfish support
OS Support Microsoft, Red Hat, SUSE, VMware. Visit lenovopress.com/osig for more information.
Limited Warranty: 1-year and 3-year customer replaceable unit and onsite service, next business day 9x5; optional service upgrades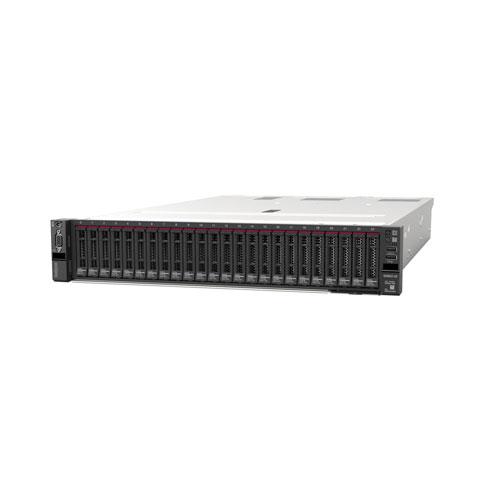 Lenovo ThinkSystem SR850 V2 Mission Critical Servers
Form Factor: 2U
Processors: Two or four 3rd-generation Intel® Xeon® Processor Scalable family CPUs, up to 250W; Mesh topology with 6x UPI links
Memory: Up to 12TB of TruDDR4 memory in 48x slots; Memory speeds up to 3200MHz at 2 DIMMs per channel; Supports Intel Optane Persistent Memory 200 Series
Expansion: Up to 7x PCIe 3.0 expansion slots
Front: VGA, 1x USB 3.1, 1x USB 2.0
Rear: 2x USB 3.1, Serial port, VGA port, 1GbE dedicated management port
Internal Storage Up to 24x 2.5-inch drives; Supports up to 24x NVMe drives (16x with 1:1 connection); 2x 7mm drives for boot
Network Interface Dedicated OCP 3.0 slot supporting 1GbE, 10GbE or 25GbE
Power 2x Platinum or Titanium hot-swap power supplies; N+N redundancy supported
High Availability TPM 2.0; PFA; hot-swap/redundant drives and power supplies; redundant fans; internal light path diagnostic LEDs; front-access diagnostics via dedicated USB port; optional diagnostic LCD panel
RAID Support: Onboard SATA with SW RAID; Support for ThinkSystem PCIe RAID/HBA cards
Management Lenovo XClarity Controller; Redfish support
OS Support Microsoft, Red Hat, SUSE, VMware. Visit lenovopress.com/osig for more information.
Limited Warranty: 1-year and 3-year customer replaceable unit and onsite service, next business day 9x5; optional service upgrades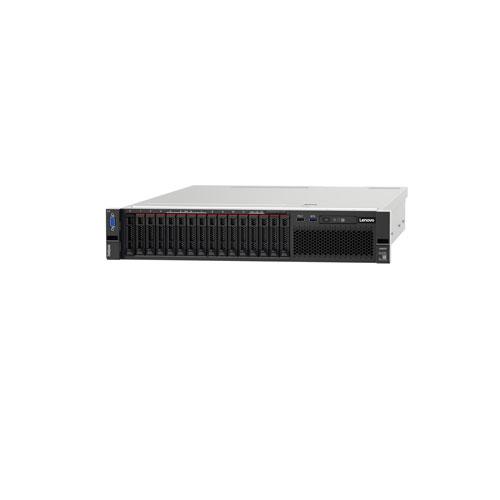 Lenovo ThinkSystem SR850P Mission Critical Servers
Form Factor: 2U
Processors: Two or four 3rd-generation Intel Xeon Processor Scalable family CPUs, up to 250W; Mesh topology with 6x UPI links
Memory: Up to 12TB of TruDDR4 memory in 48x slots; Memory speeds up to 3200MHz at 2 DIMMs per channel; Supports Intel Optane Persistent Memory 200 Series
Expansion: Up to 7x PCIe 3.0 expansion slots
Front: VGA, 1x USB 3.1, 1x USB 2.0
Rear: 2x USB 3.1, Serial port, VGA port, 1GbE dedicated management port
Internal Storage Up to 24x 2.5-inch drives; Supports up to 24x NVMe drives (16x with 1:1 connection); 2x 7mm drives for boot
Network Interface Dedicated OCP 3.0 slot supporting 1GbE, 10GbE or 25GbE
Power 2x Platinum or Titanium hot-swap power supplies; N+N redundancy supported
High Availability TPM 2.0; PFA; hot-swap/redundant drives and power supplies; redundant fans; internal light path diagnostic LEDs; front-access diagnostics via dedicated USB port; optional diagnostic LCD panel
RAID Support: Onboard SATA with SW RAID; Support for ThinkSystem PCIe RAID/HBA cards
Management Lenovo XClarity Controller; Redfish support
OS Support Microsoft, Red Hat, SUSE, VMware. Visit lenovopress.com/osig for more information.
Limited Warranty: 1-year and 3-year customer replaceable unit and onsite service, next business day 9x5; optional service upgrades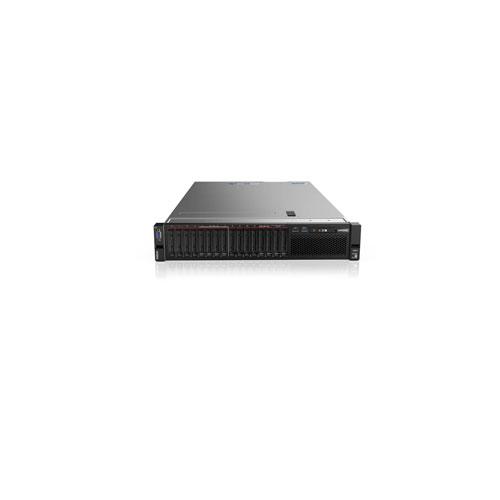 Lenovo ThinkSystem SR850 Mission Critical Servers
Form Factor/Height: 2U rack server
Processor (max): 2 or 4 second-generation Intel® Xeon® Processor Scalable family CPUs, up to 165W
Memory (max): Up to 6TB in 48x slots using 128GB DIMMs; 2666MHz / 2933MHz TruDDR4
Expansion Slots: Up to 9x PCIe plus 1x LOM; optional 1x ML2 slot
Internal Storage: Up to 16x 2.5" storage bays supporting SAS/SATA HDD and SSDs or up to 8x 2.5" NVMe SSD; plus up to 2x mirrored M.2 boot
Network Interface: Multiple options with 1GbE, 10GbE, 25GbE, 32GbE, 40GbE or InfiniBand PCIe adapters; one (2-/4-port) 1GbE or 10GbE LOM card
Power Supply (std/max): 2x hot-swap/redundant: 750W/1100W/1600W AC 80 PLUS Platinum
Security and Availability Features: Lenovo ThinkShield, TPM 1.2/2.0; PFA; hot-swap/redundant drives, fans, and PSUs; internal light path diagnostic LEDs; front-access diagnostics via dedicated USB port; diagnostic LCD panel
RAID Support: HW RAID (up to 16 ports) with flash cache; up to 16-port HBAs
Limited Warranty: 1-year and 3-year customer replaceable unit and onsite service, next business day 9x5; optional service upgrades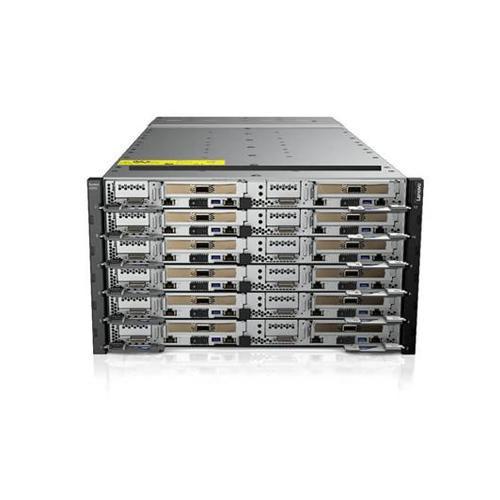 Lenovo ThinkSystem SD650 Server
Form Factor: Full-wide 1U tray (six per n1200 Enclosure)
Chassis : NeXtScale n1200 Enclosure (6U)
Processors: 2 second-generation Intel Xeon Scalable Processor Scalable family CPUs per node; 2x nodes per 1U tray
Memory Up to 1.5TB using 12x 2933MHz TruDDR4 DIMMs per node or up to 2TB (512GB x4) using Intel Optane DC Persistent Memory
I/O Expansion: 1x 50mm width ML2 slot and 1x PCIe x16 slot for EDR InfiniBand or Intel Omni Path, per server node
Internal Storage: Up to 2x 2.5" SATA SSDs (7mm height) or 1x 2.5" NVMe SSDs (15mm height) per node; up to 2x M.2 SATA SSDs
RAID Support: Onboard SATA controller with SW RAID; optional Dual M.2 SSD adapter with HW RAID 1
Network Interface: 2x 1GbE BaseT NIC per node; additional high-speed network adapters (InfiniBand or Omni Path) can be installed in available front-accessible PCIe x16 adapter slot
Power Management: Rack-level power capping and management via Extreme Cloud Administration Toolkit (xCAT)
Systems Management: Supported by LICO and XCC
Limited Warranty: 3-year customer replaceable unit and onsite limited warranty, next business day 9x5, service upgrades available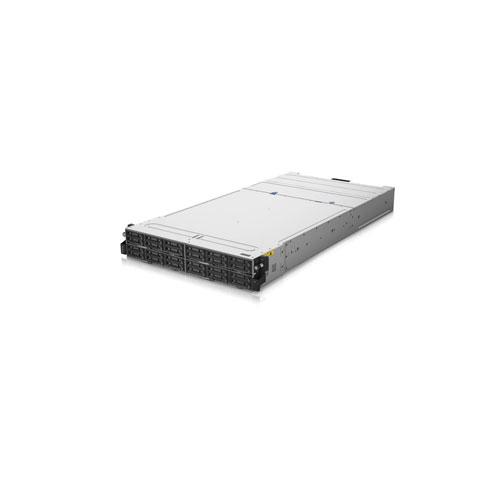 Lenovo ThinkSystem SD530 Server
Form Factor/Height: 2U rack enclosure; 4 independent compute nodes
Processor (max)/Cache (max): Up to 2x Intel® Xeon® Platinum processors, up to 165W
Memory: Up to 1TB in 16x slots, using 64GB DIMMs; 2666MHz TruDDR4
Expansion Slots: 1x shuttle per D2 enclosure: either x8 PCIe Shuttle with 8x PCIe 3.0 x8 slots (2 per node); or x16 PCIe Shuttle with 4x PCIe 3.0 x16 slots (1 per node). Up to 2x external 1U trays (with up to 2 GPUs per node each)
Drive Bays (Total/Hot Swap)
Up to 24x (6x per node) HS SFF SAS/SATA HDDs/SSDs; up to 8x (2x per node) HS SFF NVMe SSDs
RAID Support: SW RAID supports JBOD; Entry RAID; opt. HW RAID 12Gb supports JBOD; plus M.2 boot support with optional RAID
Security and Availability Features TPM 1.2/2.0; PFA; HS/redundant drives, fans, and PSUs; 45°C continuous operation; light path diagnostic LEDs; front-access diagnostics via dedicated USB port
Network Interface: Opt. 8-port EIOM 10Gb SFP+ (two ports per node); Opt. 8-port EIOM 10GbaseT RJ45 (two ports per node)
Power Supply: 2x hot-swap/redundant 1+1 1600W/2000W; or 2x non-redundant 1100W
Hot-Swap Components Power supplies, fans, SAS/SATA/NVMe storage devices; compute nodes are warm-swap
Systems Management: XClarity Controller embedded management, XClarity Administrator centralized infrastructure delivery, XClarity Integrator plugins, and XClarity Energy Manager centralized server power management
Operating Systems Supported
Microsoft Windows Server, Red Hat Enterprise Linux, SUSE Linux Enterprise Server, VMware vSphere. Visit lenovopress.com/osig for details.
Limited Warranty: 1- and 3-year customer replaceable unit and onsite service, next business day 9x5, opt. service upgrades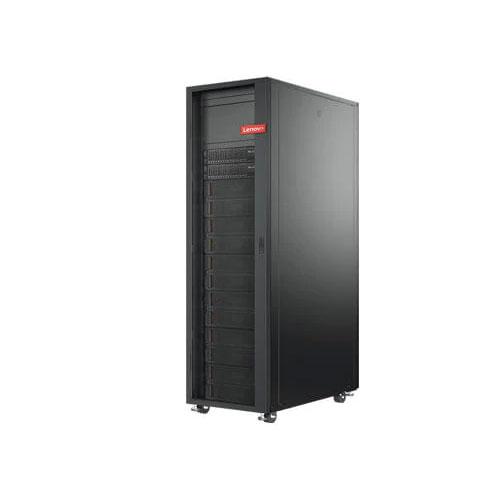 Lenovo Scalable Infrastructure Server
Operating Systems: Red Hat Enterprise Linux, SUSE Linux Enterprise Server, CentOS
Lenovo Software: Lenovo intelligent Computing Orchestration (LiCO)
OEM Software: IBM® Spectrum Scale, Excelero
Open Source Software: xCat/Confluent, Antilles
Scalability Individual configuration based on the components above scaling from single to 10,000s of systems
Warranty: 3-year parts, customer replaceable unit (CRU) or on-site labor, limited warranty, with individual nodes retaining the warranty and service upgrade offerings for that machine type; optional warranty service upgrades. Support is 9x5, next business day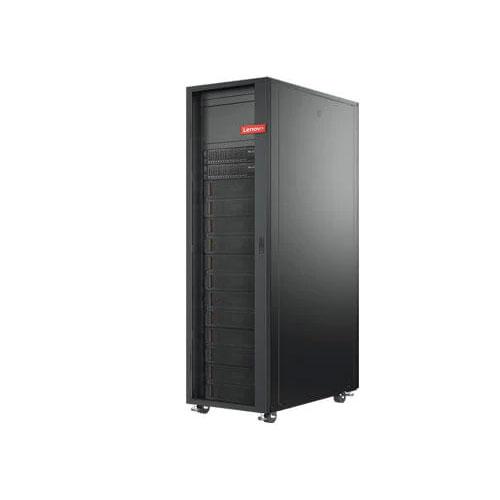 Lenovo Distributed Storage Solution for IBM Spectrum Scale
Single, integrated storage solution
Built to leverage a strong IBM Spectrum Scale software market
High-capacity, scalable building-block approach—performance and capacity increase as you add multiple building blocks
Unique, innovative Spectrum Scale RAID capability providing extreme data integrity and reduced latency with faster rebuild times and enhanced data protection
Cost competitive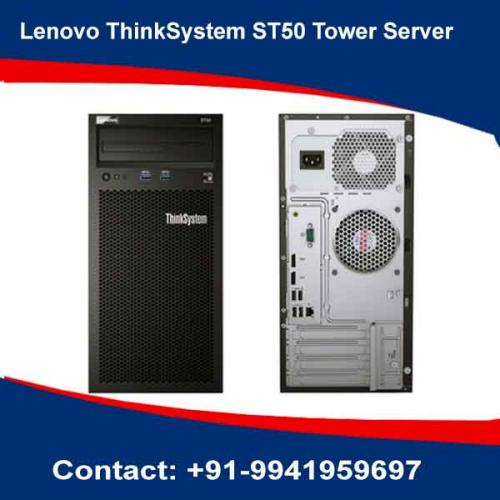 Lenovo ThinkSystem ST50 Tower Server
PROCESSOR: Intel Xeon E-2224G 4C
GHz: 3.5GHz
Cache : 8 MB
MEMORY : 1x8 GB TruDDR4
HARD DRIVE: 1 X 1TB Enterprise SATA 3.5" SATA
RAID : RAID 0,1,5,10 (Onboard RAID)
MANAGEMENT : Intel AMT 12.0
Others : 1 Ethernet Ports, Optical Disk Drive
WARRANTY : 3 Years Onsite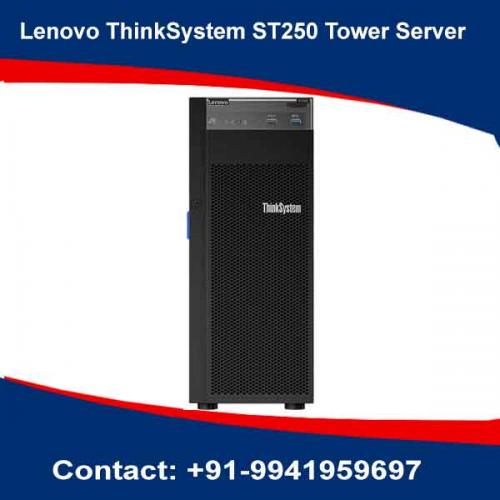 Lenovo ThinkSystem ST250 Tower Server
PROCESSOR: Intel Xeon E-2104G 4C
GHz: 3.2GHz
Cache : 8 MB
MEMORY : 1x8 GB TruDDR4
HARD DRIVE: 1 X 1TB Enterprise SATA 3.5" Hotswap SATA
RAID : RAID 0,1,5,10 (Onboard RAID)
MANAGEMENT : Lenovo XClarity Administrator
WARRANTY : 3 Years Onsite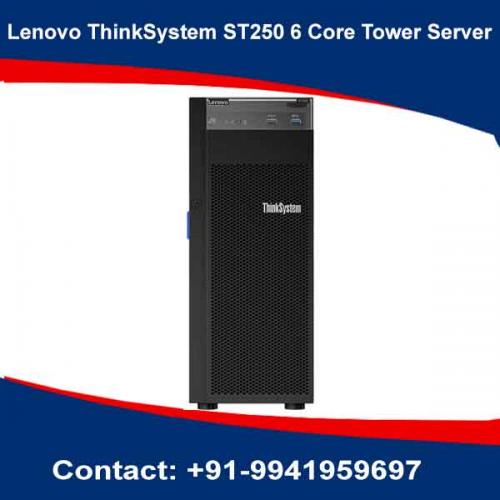 Lenovo ThinkSystem ST250 6 Core Tower Server
PROCESSOR: Intel Xeon E-2226G 6C 80W
GHz: 3.4GHz
Cache : 12 MB
MEMORY : 1x8 GB TruDDR4
HARD DRIVE: Open Bay 8x2.5" SATA/SAS Backplane
RAID : RAID 0,1,5,10 (Onboard RAID)
MANAGEMENT : Lenovo XClarity Administrator
Others : Dual Gigabit Ethernet ports, 1x550W PSU
WARRANTY : 3 Years Onsite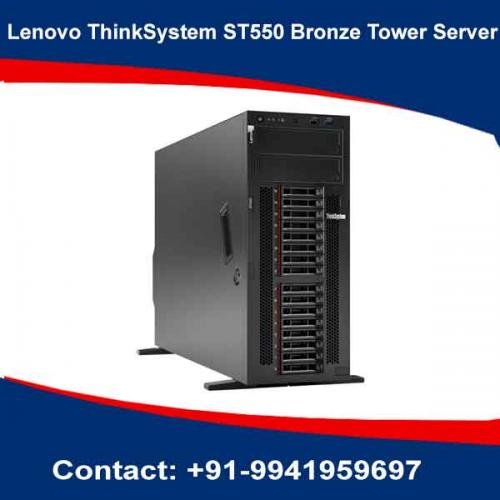 Lenovo ThinkSystem ST550 Bronze Tower Server
PROCESSOR: Intel Xeon Bronze 3204 6C 85W
GHz: 1.9Ghz
Cache : 8.25 MB
MEMORY : 16GB X 1
HARD DRIVE: 1 x 2TB Enterprise SATA 3.5" SATA 4-Bay Simple Swap Backplane
RAID : Software Raid Only
MANAGEMENT : Lenovo XClarity Enterprise
Others : 2x 1G Ports , 1x750W PSU
WARRANTY : 3Yr 24x7 4Hr Response + KYD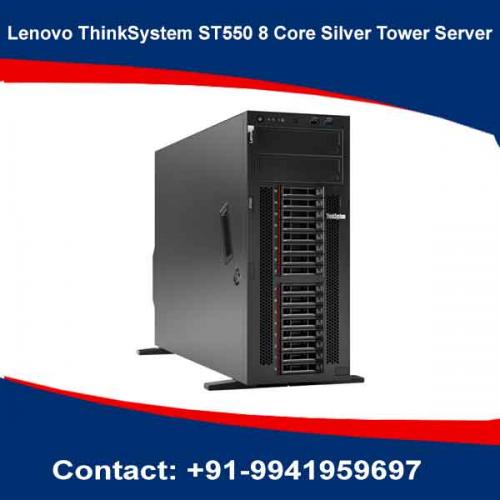 Lenovo ThinkSystem ST550 8 Core Silver Tower Server
Lenovo ThinkSystem ST550 8 Core Silver and 2*4 Bay Hard Drive Tower Server
PROCESSOR: Intel Xeon Silver 4208 8C 85W
GHz: 2.1Ghz
Cache : 11 MB
MEMORY : 16GB X 1
HARD DRIVE: Open Bay 3.5" SATA/SAS 2*4-Bay Backplane (Total 8Bay)
RAID : ThinkSystem RAID 530-8i PCIe 12Gb Adapter
MANAGEMENT : Lenovo XClarity Enterprise
Others : 2x 1G Ports, 1x750W PSU
WARRANTY : 3Yr 24x7 4Hr Response + KYD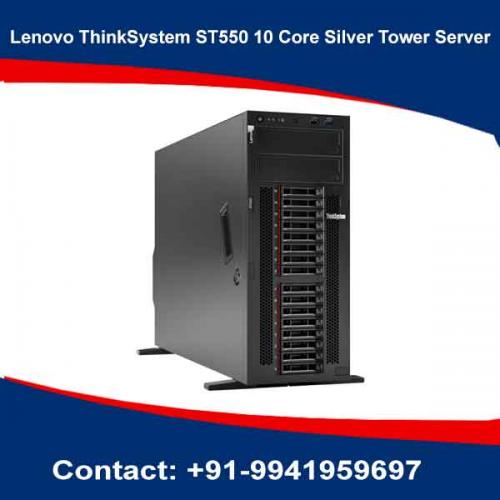 Lenovo ThinkSystem ST550 10 Core Silver Tower Server
Lenovo ThinkSystem ST550 10 Core Silver and Bay 3.5" SATA hard drive Tower Server
PROCESSOR: Intel Xeon Silver 4210 10C 85W
GHz: 2.2Ghz
Cache : 13.75 MB
MEMORY : 16GB X 1
HARD DRIVE: Open Bay 3.5" SATA/SAS 2*4-Bay Backplane (Total 8Bay)
RAID : ThinkSystem RAID 530-8i PCIe 12Gb Adapter
MANAGEMENT : Lenovo XClarity Enterprise
Others : 2x 1G Ports , 1x750W PSU
WARRANTY : 3Yr 24x7 4Hr Response + KYD
Price : 149500/-*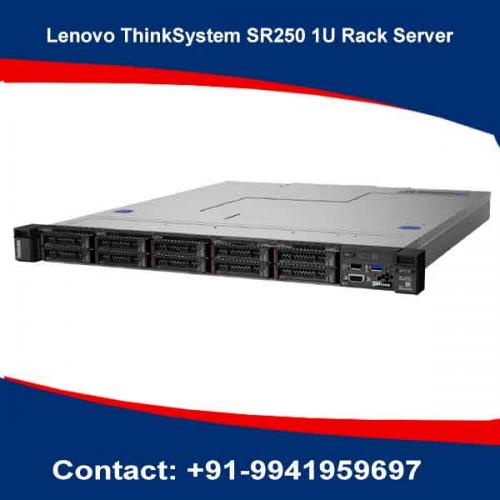 Lenovo ThinkSystem SR250 1U Rack Server
PROCESSOR: Intel Xeon E-2124 4 core
GHz: 3.3Ghz
Cache : 8 MB
MEMORY : 1x8 GB
HARD DRIVE: 1 x 1TB SATA 3.5" Simple Swap SATA (Upto 4 Bays)
RAID : RAID 0,1,5,10 (Onboard software RAID)
MANAGEMENT : X Clarity Controller Std
WARRANTY : 3 Years Onsite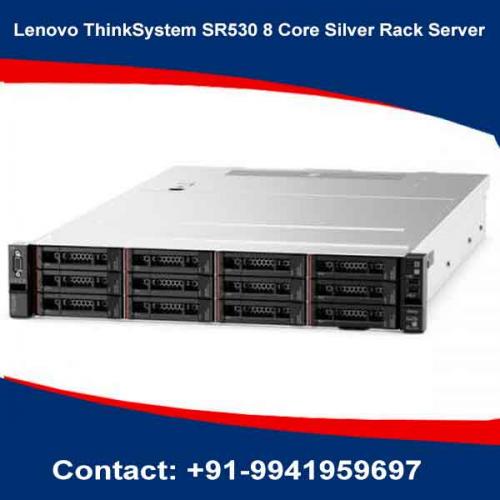 Lenovo ThinkSystem SR530 8 Core Silver Rack Server
PROCESSOR: Intel Xeon Silver 4208 8C 85W
GHz: 2.1GHz
Cache : 11 MB
MEMORY : 16GB X 1
HARD DRIVE: Open Bay 2.5" SATA/SAS 8-Bay Backplane
RAID : ThinkSystem RAID 530-8i PCIe 12Gb Adapter
MANAGEMENT : Lenovo XClarity Enterprise
Others : ThinkSystem SR530/SR570/SR630 x8/x16 PCIe LP+LP Riser 1 Kit, 2x1G Ports, 1x750W PSU
WARRANTY : 3Yr 24x7 4Hr Response + KYD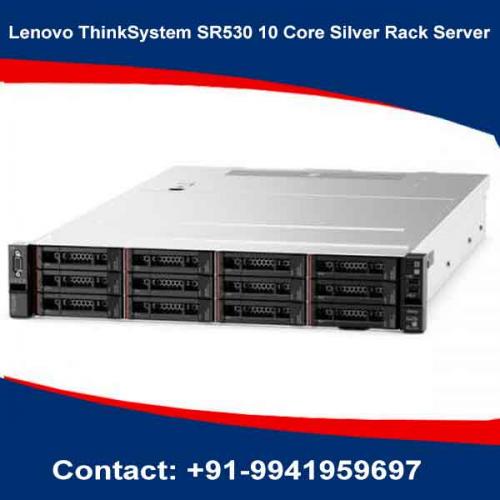 Lenovo ThinkSystem SR530 10 Core Silver Rack Server
PROCESSOR: Intel Xeon Silver 4210 10C 85W
GHz: 2.1GHz
Cache : 13.75 MB
MEMORY : 16GB X 1
HARD DRIVE: Open Bay 2.5" SATA/SAS 8-Bay Backplane
RAID : ThinkSystem RAID 530-8i PCIe 12Gb Adapter
MANAGEMENT : Lenovo XClarity Enterprise
Others : ThinkSystem SR530/SR570/SR630 x8/x16 PCIe LP+LP Riser 1 Kit, 2x1G Ports, 1x750W PSU
WARRANTY : 3Yr 24x7 4Hr Response + KYD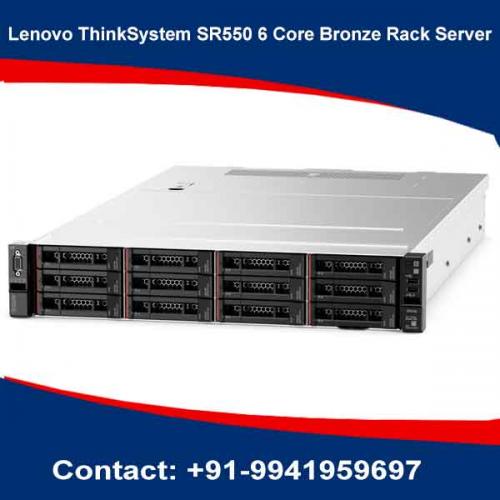 Lenovo ThinkSystem SR550 6 Core Bronze Rack Server
PROCESSOR: Intel Xeon Bronze 3204 6C 85W
GHz: 1.9Ghz
Cache : 8.25 MB
MEMORY : 1 X 16GB
HARD DRIVE: Open Bay 3.5" SATA/SAS 8-Bay Backplane
RAID : ThinkSystem RAID 530-8i PCIe 12Gb Adapter
MANAGEMENT : Lenovo XClarity Enterprise
Others : 2x 1G Ports , 1x750W PSU
WARRANTY : 3Yr 24x7 4Hr Response + KYD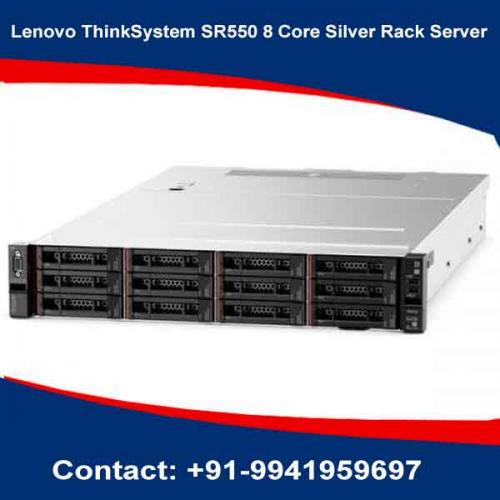 Lenovo ThinkSystem SR550 8 Core Silver Rack Server
PROCESSOR: Intel Xeon Silver 4208 8C 85W
GHz: 2.1Ghz
Cache : 11 MB
MEMORY : 1 X 16GB
HARD DRIVE: Open Bay 3.5" SATA/SAS 8-Bay Backplane
RAID : ThinkSystem RAID 530-8i PCIe 12Gb Adapter
MANAGEMENT : Lenovo XClarity Enterprise
Others : 2x 1G Ports , 1x750W PSU
WARRANTY : 3Yr 24x7 4Hr Response + KYD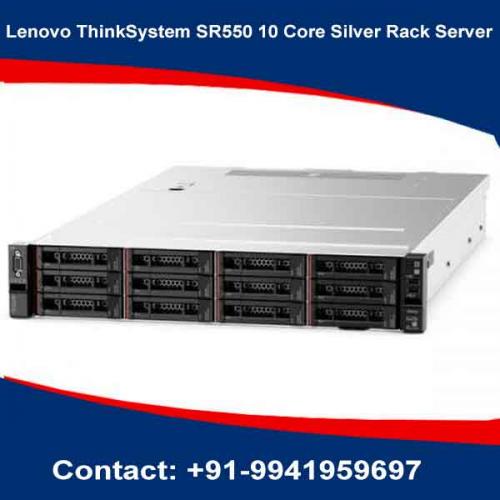 Lenovo ThinkSystem SR550 10 Core Silver Rack Server
PROCESSOR: Intel Xeon Silver 4210 10c 85W
GHz: 2.2Ghz
Cache : 13.75 MB
MEMORY : 1 X 16GB
HARD DRIVE: Open Bay 3.5" SATA/SAS 8-Bay Backplane
RAID : ThinkSystem RAID 530-8i PCIe 12Gb Adapter
MANAGEMENT : Lenovo XClarity Enterprise
Others : 2x 1G Ports, 1x750W PSU
WARRANTY : 3Yr 24x7 4Hr Response + KYD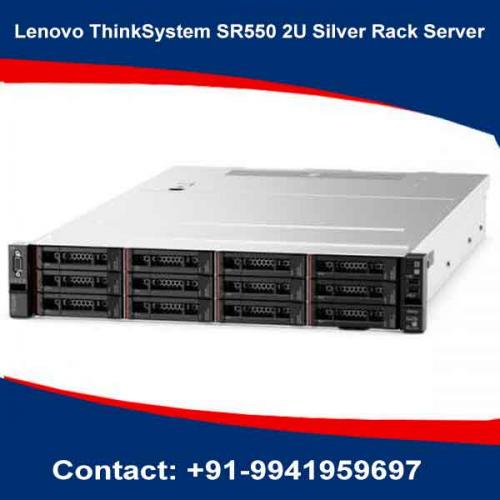 Lenovo ThinkSystem SR550 2U Silver Rack Server
FORM FACTOR: Dual Socket RACK (2U)
FAMILY:SR550
PART No: 7X04SQVC00
PROCESSOR: Intel Xeon Silver 4210 10c 85W
GHz: 2.2Ghz
Cache : 13.75 MB
MEMORY : 1 X 16GB
HARD DRIVE: Open Bay 2.5" SATA/SAS 8-Bay Backplane
RAID : ThinkSystem RAID 530-8i PCIe 12Gb Adapter
MANAGEMENT : Lenovo XClarity Enterprise
Others : 2x 1G Ports, 1x750W PSU
WARRANTY : 3Yr 24x7 4Hr Response + KYD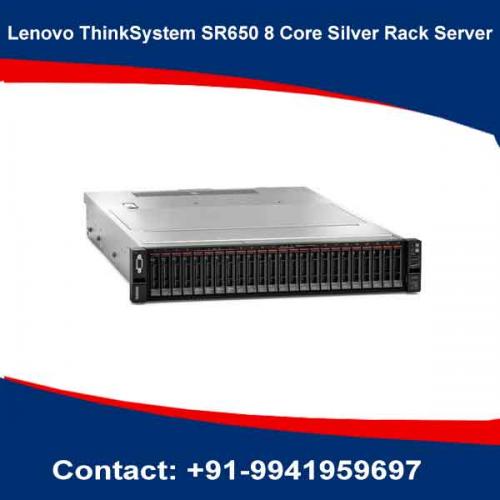 Lenovo ThinkSystem SR650 8 Core Silver Rack Server
PROCESSOR: Intel Xeon Silver 4208 8C 85W
GHz: 2.1Ghz
Cache : 11MB
MEMORY : 1 X 16GB
HARD DRIVE: Open Bay 2.5" SATA/SAS 8-Bay Backplane
RAID : ThinkSystem RAID 730-8i 1GB Cache PCIe 12Gb Adapter
MANAGEMENT : Lenovo XClarity Enterprise
Others : 10Gb 2-port Base-T LOM, 2x 750W RPS
WARRANTY : 3Yr 24x7 4Hr Response + KYD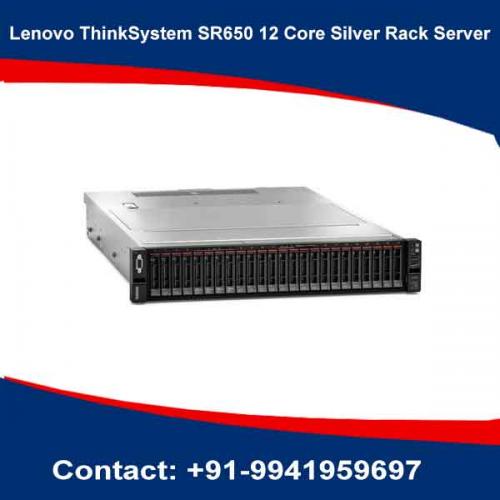 Lenovo ThinkSystem SR650 12 Core Silver Rack Server
PROCESSOR: Intel Xeon Silver 4214 12C 85W
GHz: 2.2GHz
Cache : 16.5 MB
MEMORY : 1 X 16GB
HARD DRIVE: Open Bay 2.5" SATA/SAS 8-Bay Backplane
RAID : ThinkSystem RAID 730-8i 1GB Cache PCIe 12Gb Adapter
MANAGEMENT : Lenovo XClarity Enterprise
Others : 10Gb 2-port Base-T LOM, 2x 750W RPS
WARRANTY : 3Yr 24x7 4Hr Response + KYD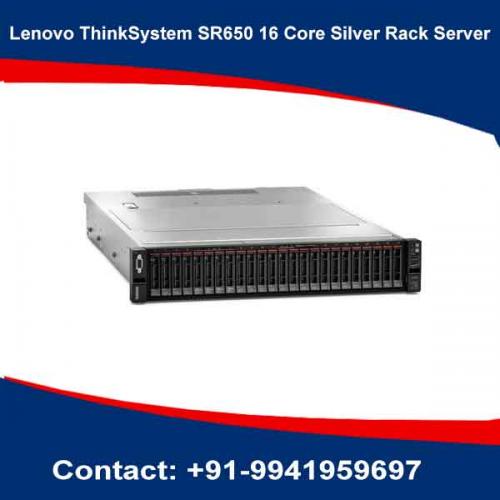 Lenovo ThinkSystem SR650 16 Core Silver Rack Server
PROCESSOR: Intel Xeon Silver 4216 16C 100W
GHz: 2.1Ghz
Cache : 22 MB
MEMORY : 1 X 16GB
HARD DRIVE: Open Bay 2.5" SATA/SAS 8-Bay Backplane
RAID : ThinkSystem RAID 730-8i 1GB Cache PCIe 12Gb Adapter
MANAGEMENT : Lenovo XClarity Enterprise
Others : 10Gb 2-port Base-T LOM, 2x 750W RPS
WARRANTY : 3Yr 24x7 4Hr Response + KYD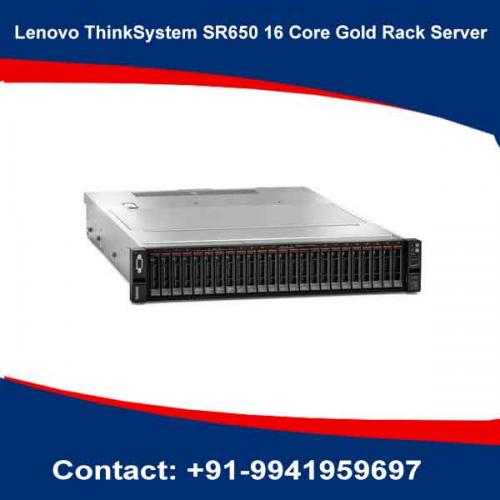 Lenovo ThinkSystem SR650 16 Core Gold Rack Server
PROCESSOR: Intel Xeon Gold 5218 16C 125W
GHz: 2.3GHz
Cache : 22 MB
MEMORY : 1x32GB
HARD DRIVE: Open Bay 2.5" SATA/SAS 8-Bay Backplane
RAID : Thinksystem RAID 930-8i 2GB Flash PCIe Adapter
MANAGEMENT : Lenovo XClarity Enterprise
Others : 10Gb 2-port Base-T LOM, 2x 750W RPS
WARRANTY : 3Yr 24x7 4Hr Response + KYD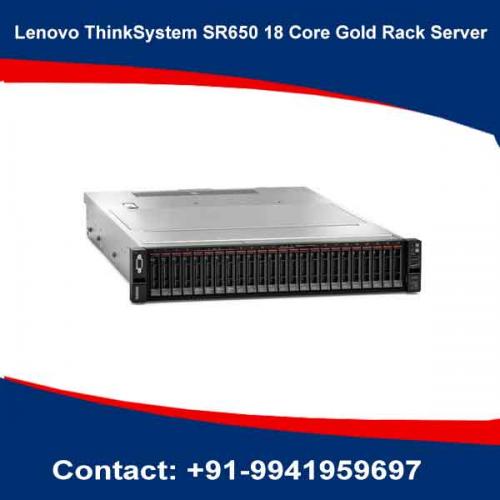 Lenovo ThinkSystem SR650 18 Core Gold Rack Server
PROCESSOR: Intel Xeon Gold 5220 18C 125W
GHz: 2.2GHz
Cache : 24.75 MB
MEMORY : 1x32GB
HARD DRIVE: Open Bay 2.5" SATA/SAS 8-Bay Backplane
RAID : Thinksystem RAID 930-8i 2GB Flash PCIe Adapter
MANAGEMENT : Lenovo XClarity Enterprise
Others : 10Gb 2-port Base-T LOM, 2x 750W RPS
WARRANTY : 3Yr 24x7 4Hr Response + KYD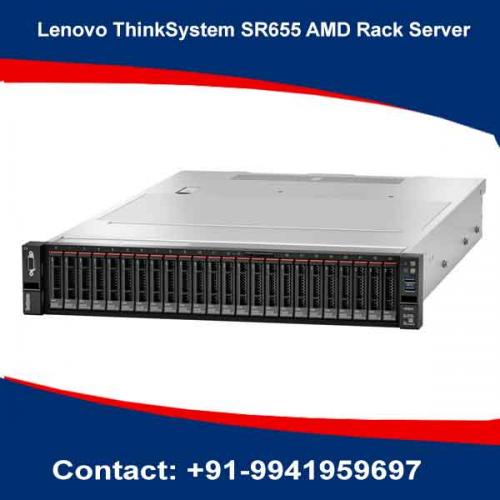 Lenovo ThinkSystem SR655 AMD Rack Server
PROCESSOR: AMD EPYC 7272 12C 120W
GHz: 2.9GHz
Cache : 64 MB
MEMORY : 1x16GB
HARD DRIVE: Open Bay 2.5" SATA/SAS 8-Bay Backplane
RAID : ThinkSystem RAID 530-8i PCIe 12Gb Adapter
MANAGEMENT : AST2500 embedded management processor combined with X-clarity administrator
Others : SR635/SR655 x8 PCIe Internal Riser, x16/x16 PCIe Riser1, 750W(230/115V) Platinum Hot-Swap PSU
WARRANTY : 3Yr 24x7 4Hr Response + KYD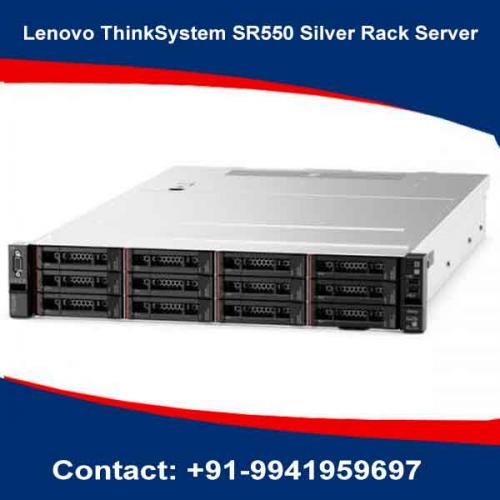 Lenovo ThinkSystem SR550 Silver Rack Server
PROCESSOR: Intel Xeon Silver 4208 8C 85W
GHz: 2.1Ghz
Cache : 11 MB
MEMORY : 1 X 16GB
HARD DRIVE: Open Bay 2.5" SATA/SAS 8-Bay Backplane
RAID : ThinkSystem RAID 530-8i PCIe 12Gb Adapter
MANAGEMENT : Lenovo XClarity Enterprise
Others : 2x 1G Ports , 1x750W PSU
WARRANTY : 3Yr 24x7 4Hr Response + KYD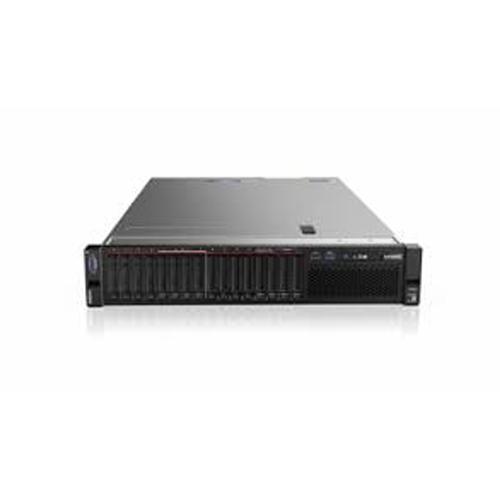 Lenovo ThinkSystem SR850
Intelligently designed for value


Easily scale from two to four processors
Large memory capacity
Flexible storage configurations
Advanced RAS features
XClarity Management
Features Highlights


The perfect balance of expandability and economics. Intelligently designed for value.
Designed for reliability and uptime. The confidence to run anything.
Engineered with the future in mind. Ready for tomorrow's technologies.

Growth is inevitable


The Lenovo ThinkSystem SR850 is built to deliver the performance and reliability you require today
with the scalability and versatility you'll need as you advance toward the "future-defined" data center.
The flexible 2U SR850 can scale from two to four powerful Intel Xeon processor Scalable family CPUs
with up to 233 percent more cores and 400 percent more memory than the previous-generation server*
achieving up to 76 percent faster performance. Built for standard workloads like general business applications and server consolidation
it can also accommodate high-growth areas such as databases and virtualization. The agile design of ThinkSystem SR850 provides rapid upgrades for processors and memory
and its large
flexible storage capacity helps you keep pace with data growth.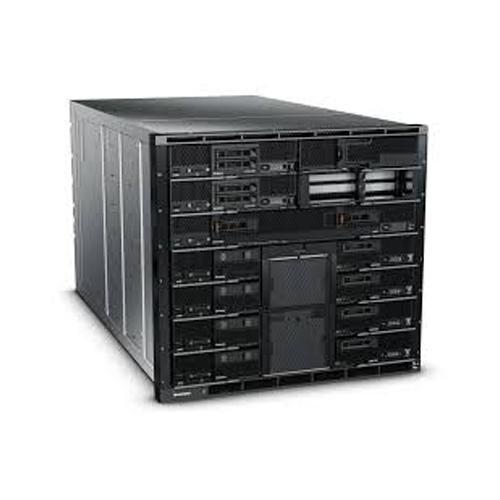 Lenovo Flex System Enterprise Chassis
Highly Reliable. Customizable. Efficient


Scales to meet business needs
works with multiple generations of technology
offers high availability
securely protects vital information
and maximizes uptime.
Efficient: 14 standard compute node bays in a 10U chassis
Customizable: compute or management nodes
with up to 4 networking modules in rear
High Reliability: N+N or N+1 redundant power
a 3-phase power domain
& a passive mid-plane
Features Highlights


Outstanding flexibility and efficiency with choice of compute and networking
No compromise design that can easily scale capabilities with business needs
Designed for multiple generations of technology
Integrated and easy to use management with advanced functions
Scalable pay-as-you-grow flexible I/O offerings
Highly resilient: no single point of failure to maintain high availability
Designed to deliver a highly secure environment
protecting vital information and maximizing uptime
World-class service with three-year on-site support
Flexibility Efficiency


To meet today's complex and ever-changing business demands
the Lenovo Flex System Enterprise Chassis provides a high-performance
integrated infrastructure platform that supports a mix of compute and networking capabilities. The Flex System Enterprise Chassis has been designed and built specifically to provide the efficiency you need now
along with the growth path necessary to protect your investment into the future.
The Flex System Enterprise Chassis is the foundation of the Flex System offering
which features 14 standard (half-width) Flex System form factor compute node bays in a 10U chassis that delivers high-performance connectivity for your integrated compute
networking and management resources.