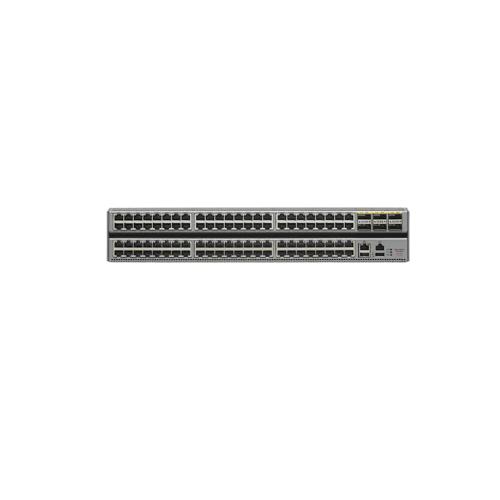 Cisco Nexus 93120TX Switch
Ports : 96 fixed 1/10GBASE-T and 6 QSFP+ ports
Supported speeds :100 Megabit Ethernet and 1/10 Gigabit Ethernet speeds
40 Gigabit Ethernet uplink
ports : 6 fixed QSFP+ ports
Physical (H x W x D) 3.5 x 17.5 x 22.5 in. (8.9 x 44.5 x 57.1 cm)
Weight 26 lb (11.8 kg) (without power supplies, fans, or uplink module)
Predictable high performance :
Latency of 1 to 2 microseconds with up to 1.28 Tbps of bandwidth enables customers to build a robust switch fabric scaling
from as few as 200 10-Gbps server ports to more than 200,000 10-Gbps server ports.
Increased integrated buffer space :
Up to a total of 50 MB of integrated shared buffer space allows better management of speed mismatch between access and
uplink ports.
Designed for availability :
Hot-swappable, redundant power supplies and fan trays increase availability.
Flexible airflow configuration :
Port-side intake and port-side exhaust airflow configurations are both supported.
CPU, SSD, and memory :
Dual-core 2.5-GHz x86 CPUs with 64-GB SSD drive and 16 GB of memory provide enhanced network performance.
Power efficiency :
All Cisco Nexus 9000 Series power supplies are 80 Plus Platinum rated.
Advanced optics :
Cisco offers a pluggable 40 Gigabit Ethernet QSFP+ transceiver that enables customers to use existing 10 Gigabit Ethernet
data center cabling to support 40 Gigabit Ethernet connectivity. This technology facilitates adoption of 40 Gigabit Ethernet
with no cable infrastructure upgrade cost.