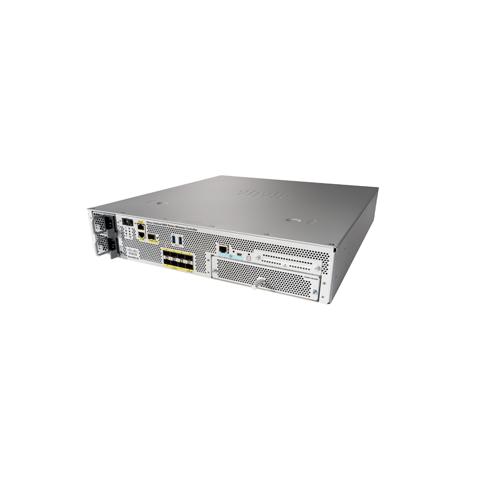 Cisco Catalyst 9800 80 Wireless Controller
High availability and seamless software updates enabled by hot patching keep your clients and services always on in planned and unplanned events.
Secure air devices and users with the Cisco Catalyst 9800-80. Wireless infrastructure becomes the strongest first line of defense with Cisco Encrypted Traffic Analytics (ETA) and Software-Defined Access (SD-Access).
The controller comes with built-in security: secure boot runtime defenses image signing integrity verification and hardware authenticity.
Built on a modular operating system the 9800-80 features open and programmable APIs that enable automation of day-0 to day-N network operations.
Model-driven streaming telemetry provides deep insights into the health of your network and clients.
Maximum number of access points : Up to 6000
Maximum number of clients : 64 000
Maximum throughput : Up to 80 Gbps
Maximum WLANs : 4096
Maximum VLANs : 4096
Max site tags : 6000
Max Flex APs per site : 100
Max policy tags : 6000
Max RF tags : 6000
Max RF profiles : 12000
Max policy profiles : 1000
Max flex profiles : 6000
Fixed uplinks : 8x 10 GE or 6x 10 GE + 2x 1 GE SFP+/SFP
Modular uplinks (optional)
The supported uplink modules are
C9800-18X1GE(=)
C9800-10X10GE(=)
C9800-1X40GE(=)
C9800-2X40GE(=)
C9800-1X100GE(=)
The uplink modules are hot-swappable.
Supports 10 GE 40 GE and 100 GE QSFP transceivers
Redundant power supply : AC or DC power supply
Maximum power consumption with modules 600W
Deployment modes : Centralized Cisco FlexConnect® and Fabric Wireless (SD-Access)
Form factor : 2RU
License : Smart License enabled
Operating system : Cisco IOS XE
Management : Cisco DNA Center Cisco Prime Infrastructure integrated WebUI and third party (open standards APIs)
Interoperability : AireOS-based controllers
Policy engine : Cisco Identity Services Engine (ISE)
Location platform : Cisco Connected Mobile Experiences (CMX)/Cisco DNA Spaces*
Access points : Aironet 802.11ac Wave 1 and Wave 2 access points Catalyst 9100 802.11ax access points
Width : 17.3 inches (43.94 cm)
Depth : 20.5 inches (52.07 cm)
Height : 3.47 inches (8.81 cm)
Weight : 31.5 lb (14.29 kg)
Hard Disk Drives (HDD) : SATA solid-state drive (SSD)
240 GB of memory