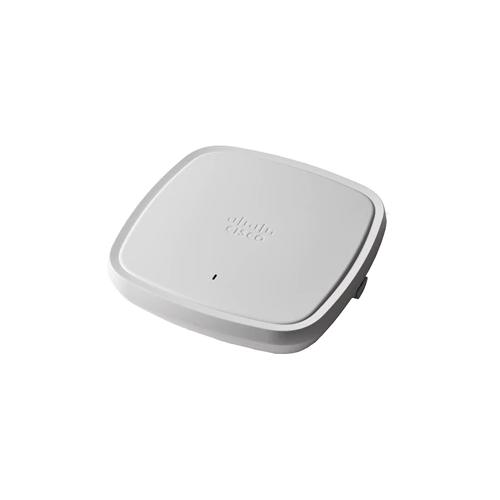 Cisco Embedded Wireless Controller on Catalyst Aaccess Point
Catalyst 9800 embedded on a Catalyst 9100 access point
Ideal for distributed branches and small campuses

Up to 100 APs and 2 000 clients

Hot patching time saving and hitless upgrades
The Cisco Embedded Wireless Controller on Catalyst® Access Points (EWC-AP) is the next-generation Wi-Fi solution combining the most advanced controller – the Cisco Catalyst 9800 Series Wireless Controllers – with the latest Wi-Fi 6 access points – the Cisco Catalyst 9100 Access Points – creating a best-in-class wireless experience for your evolving and growing organization.
With the 9800 Series wireless controller embedded on the Cisco Catalyst 9100 Access Points organizations can now benefit from enterprise-class resiliency security and IT simplicity for single or multisite enterprise deployments.
Built for intent-based networking and Cisco DNA the EWC-AP helps you simplify complexity optimize IT and reduce operational costs by leveraging intelligence automation and human expertise that no other vendor can deliver regardless of where you are in the intent-based networking journey.
Maximum number of access points : Up to 100

Maximum number of clients : Up to 2000

Maximum number of WLANs :16

Deployment modes:Cisco FlexConnect®

Maximum FlexConnect APs per site :100

License :Smart License enabled

Operating system : Cisco IOS® XE Software

Management : Cisco DNA Center 1.3.2 integrated WebUI mobile app and third party (open standards APIs)

Policy engine : Cisco Identity Services Engine (ISE) 2.2 2.3 and 2.4

Access points : Cisco Catalyst 9100 Access Points and Aironet® 802.11ac Wave 2 access points (operating in client serving mode only)

Warranty information :

The Cisco Embedded Wireless Controller on Catalyst Access Points comes with a limited lifetime warranty that provides full warranty coverage of the hardware for as long as the original end user continues to own or use the product.

The warranty includes 10-day advance hardware replacement and ensures that software media are defect-free for 90 days.

For more details

Your embedded software is subject to the Cisco End User License Agreement (EULA) (link available below)

and/or any Supplemental EULA (SEULA) or specific software warranty terms for additional software products loaded on the device.
Security
Rogue detection classification and containment

802.1X supplicant support on EWC-AP

Walled garden and DNS ACLs
Management
Cisco DNA Center for Automation and Assurance

Dashboard (web browser) and easy-to-use mobile app for deploying provisioning and monitoring

Standards-based interoperability tools using programmable interfaces

Open standards-based programmability with NETCONF and YANG
Guest
Central web authentication local web authentication and BYOD

Cisco DNA Spaces integration for personalized and relevant guest experience